Dear friends and colleagues,

It is hard to believe we are already halfway through 2021! The CAA team have been very busy throughout June, and we would like to thank our member services for all their assistance with the projects we have been working on.

Our thoughts are with those that are experiencing or have recently experienced lockdowns, we are sincerely hoping that these COVID-19 outbreaks are under control soon. This outbreak reiterates the importance of vaccination against this virus, and we are pleased to share CAA's position statement on the COVID-19 vaccine with you all.

The first ever CAA Virtual Expo was a great success, with over 2000 people attending the event over three days! Thank you to all of our exhibitors, and to everyone that came along and got involved. We are pleased to share that the Virtual Expo will be an ongoing event for CAA, that we hope to combine with our face-to-face Congress in August 2022.

The next edition of FIRST is now available. We are pleased to feature Ambulance Victoria's Sustainability Warriors as our cover stars. Tony Walker, Sally Mangan and Cath O'Shea share their work so far and their plans for a more sustainable future for Ambulance Victoria.

With just three months until Restart a Heart Day, the team are working hard on our activities for this year. For the first time, we are offering our business supporters a package that includes an AED and education session for their team. If you would like to be involved in supporting Restart a Heart Day, please get in touch!

With kindest regards,

Mojca Bizjak-Mikic
General Manager

Vaccination is a crucial part of the public health response to the COVID-19 pandemic.

Many registered paramedics will have a vital role in COVID-19 vaccination programs and in educating the public about the importance and safety of COVID-19 vaccines to ensure high participation rates.

To read the Council of Ambulance Authorities position on COVID-19 vaccination for registered paramedics and ambulance personnel including ambulance volunteers, assistants, technicians, and paramedic students, please click here.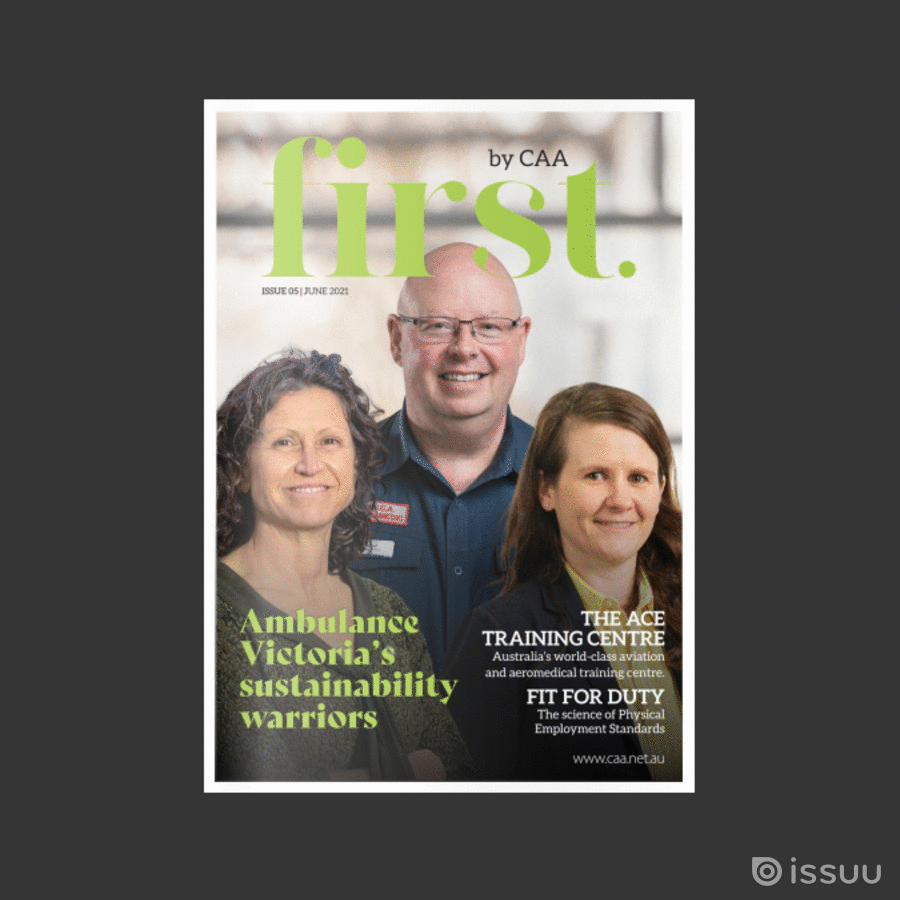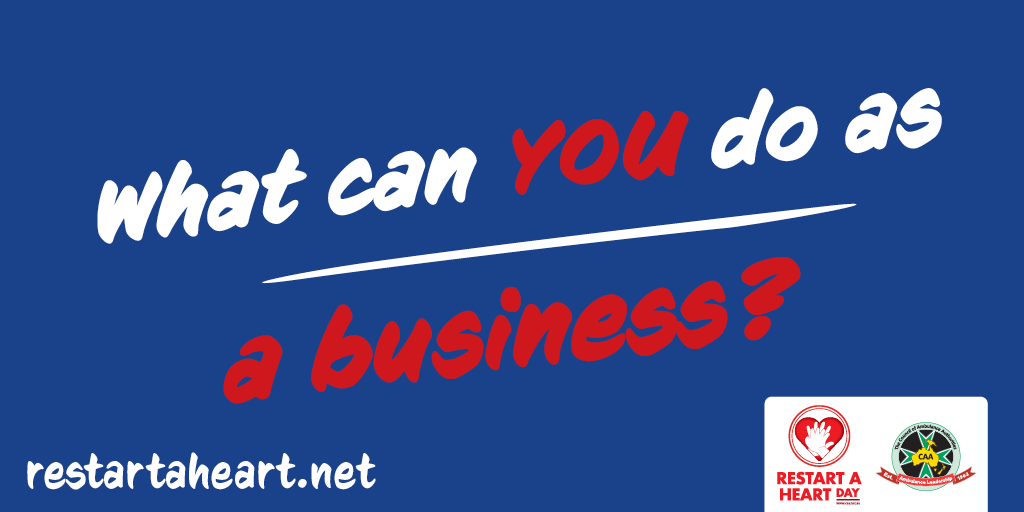 Every minute a patient is in cardiac arrest and not receiving CPR or an AED shock, the change of survival drops by 10%.

Become a business supporter this 'Restart a Heart Day' and help raise awareness of CPR and AED use and encourage people to take action when someone is in cardiac arrest.

This year, each business supporter will receive an AED for their office (or to donate to an organisation of their choice), and education on CPR and AED use.

Click here to find out more
Restart a Heart Day is proudly sponsored by: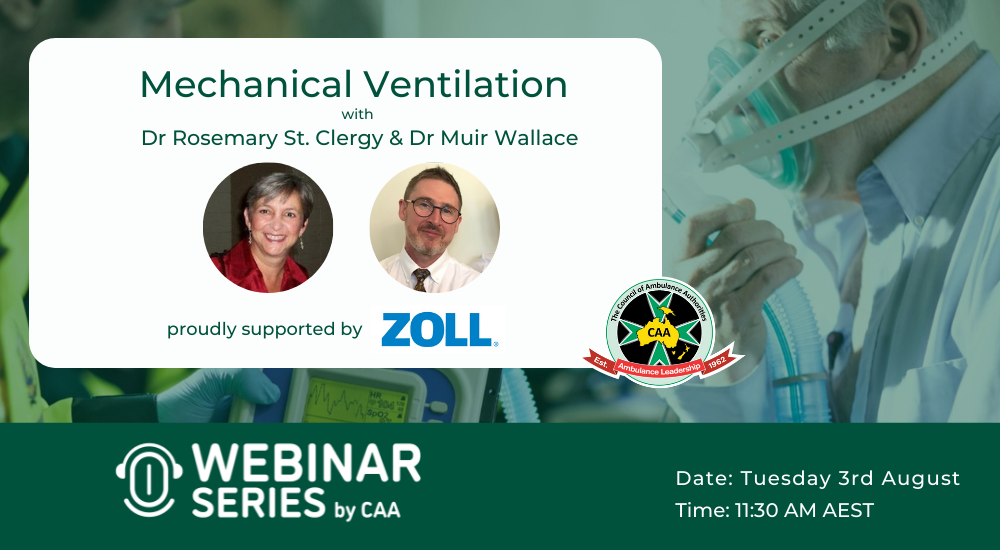 Tuesday, July 27th, 11:30am AEST

Join Dr St. Clergy and Dr Muir Wallace as they share their extensive knowledge of mechanical ventilation. Dr St. Clergy will also be sharing her own experience of implementing a critical care ventilation protocol at Acadian Ambulance.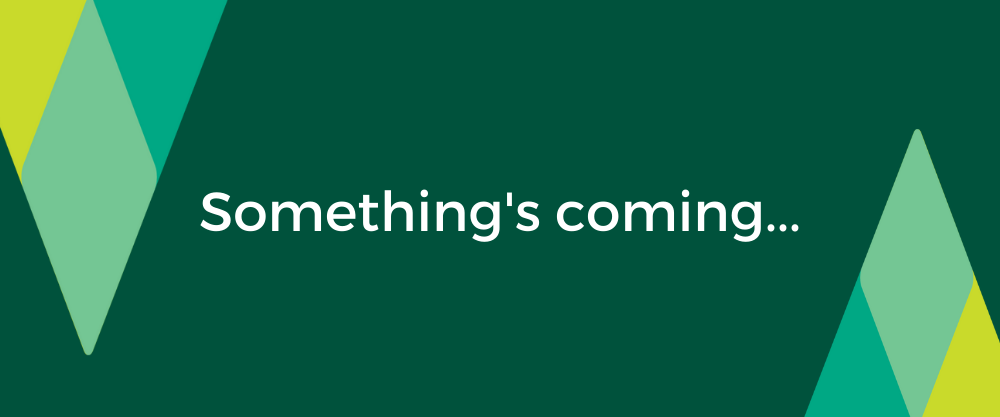 Keep refreshing your emails. We're about to announce something big.

Are you looking for your next exciting career opportunity?

Check out the CAA Job Board on our website for information regarding current roles available within our member services and the wider ambulance sector.

https://www.caa.net.au/job-board


To visit The Directory please visit https://caa.net.au/directory

About The Council of Ambulance Authorities

The Council of Ambulance Authorities is the peak industry body for Australian, New Zealand and Papua New Guinea statutory ambulance services. CAA represents a unified voice for the pre-hospital sector working to respond to changing community needs by collaborating on issues of metropolitan, regional, national and international significance. and works tirelessly to collaborate on the ambulance and pre-hospital issues of metropolitan, regional, national and international significance.
The CAA was set up in 1962 to provide ambulance service CEOs with a networking opportunity to discuss issues, learnings and achievements current to the pre-hospital industry. Today, the board consists of CEOs from each member service.
Member services collective knowledge and expertise provide a sound foundation to explore opportunities for improvement and innovation and to advocate on the sector's behalf in key areas.
To read more about us visit our website.