Dear friends & colleagues,

What an incredible year we have had. It is safe to say that 2020 will be remembered for a long time and sadly not for the fun times. Bushfires raging across most states in Australia that led into an unprecedented global pandemic, the likes of what none of us have seen before. And yet it's in our nature to persevere and move on with the times, and to look ahead to 2021 and what the 'New Normal' will bring our way.

The CAA has had an equally interesting year, with our working groups and committees meeting weekly to share plans and updates on the handling of COVID-19, that affected the majority of our year. While facing a year in which we were not able to travel and meet our peers face to face, we looked at how we can still deliver industry news and networking experiences and we turned to our rebranded communication tools to assist us.

A brand new magazine was born - FIRST by CAA - which has seen 3 issues released this year. We joined the millions of people who delivered classes online with our CAA Webinar Series proving to be a popular avenue to access inspiring speakers from the comfort of your home or office.

The 2020 Restart a Heart Day proved a challenge considering that the aim of the campaign is to educate the public in CPR and AED use, which traditionally we did in person. But due to restrictions, we had to think outside the box. With a big thank you to our member services and our partners we were able to deliver a wonderful 3 hour online event that shared training videos, inspirational survivor stories and interviews with our experts on cardiac arrest and the importance of knowing CPR and how to use AEDs.

The start of the year marked an important step for CAA and our members by launching the inaugural Women in Ambulance campaign, designed to recognise incredible women who work across our industry. The campaign forms a part of the Women in Leadership Strategy that was released later in the year, showing the commitment of the ambulance industry to work towards a more gender equal workforce.

Another first for our sector was the adoption of the Sustainability Strategy that will see our sector work towards a more sustainable future.

So while 2020 was a challenging year for sure, we are proud of the innovations and work the CAA have achieved, and we are ending the year with hopes that the pandemic might get under control soon and that we can return to some normality.

From our CAA team in Adelaide, Melbourne and Wellington we wish you a Merry Christmas, Happy Holidays and a safe and joyful New Year.

With kindest regards,

Mojca Bizjak-Mikic
General Manager
In 2020, we were very excited to launch our new magazine FIRST by CAA.
Our refreshed magazine was created to give us the opportunity to share with you the many wonderful and ground-breaking news and programs from across the Australasian ambulance sector, and we are very grateful for the feedback and support we have received from our services and partners.

To read the first 3 issues, click below or visit https://www.caa.net.au/first


CAA2020 Webinar Series was successfully launched, designed to inspire and educate with a range of speakers discussing topical issues from around the ambulance world. The series kicked off in collaboration with our long term partners Philips, bringing back a popular speaker from our Perth CAA2019 Congress, Professor Richard Lyon.

The popular Ideas Board from the CAA2019 Congress was brought back digitally with the CAA x Trapeze Ideas Board webinar featuring COVID-19 experts. Tying in with the release of the CAA Sustainability Strategy, we heard from Sally Mangan, Director of Sustainability at Ambulance Victoria, who shared some of the sustainable future initiatives her and her team have implemented. Dr Elizabeth Berryman, the founder of Chnnl app, a mental health & wellbeing tool, shared with us her personal experience and what drove her to create an app for the health community.

We also heard from St John WA CEO Michelle Fyfe, who shared her story of working for WA Police, holding high-level roles and being a leader in a male-dominated profession and how those experiences have shaped her work in the ambulance sector.

Finally, Adjunct Assistant Professor Ng Yih Yng closed our 2020 webinar series by presenting on Singapore's response to COVID-19, and their ongoing efforts to keep on top of the pandemic. In case you missed one, webinar recordings can be accessed through our website https://www.caa.net.au/webinars

We would like to thank all of our presenters for taking the time and sharing their knowledge, and we look forward to another successful series in 2021.

CAA has for several years had great success in providing an important link between the ambulance sector and product companies with the aim of advancing our industry, and throughout the challenges of not being able to meet face-to-face in 2020, the idea for a CAA Directory was born.

A networking site that brings together companies and service providers offering advertising opportunities, and chances to connect and learn about each other. The Directory will provide wonderful advertising opportunities from full-page ads in CAA's new magazine FIRST, fortnightly newsletters and exposure on our extensive social media platforms.

The Directory also introduces a dedicated page on CAA's website where all product companies will be featured. Launching in January 2021, The Directory will provide impressive exposure across the Australasian ambulance sector as well as reaching our global partners in Europe, UK, USA, Canada and across Asia.

For more information download The Directory Media Kit.

In 2020, CAA's campaigns were an interesting endeavour considering the many pandemic restrictions. However, our team worked hard and still managed to deliver these important messages through both traditional and online channels. For details and updates regarding our campaigns, please click on the below icons or visit https://www.caa.net.au/caa-campaigns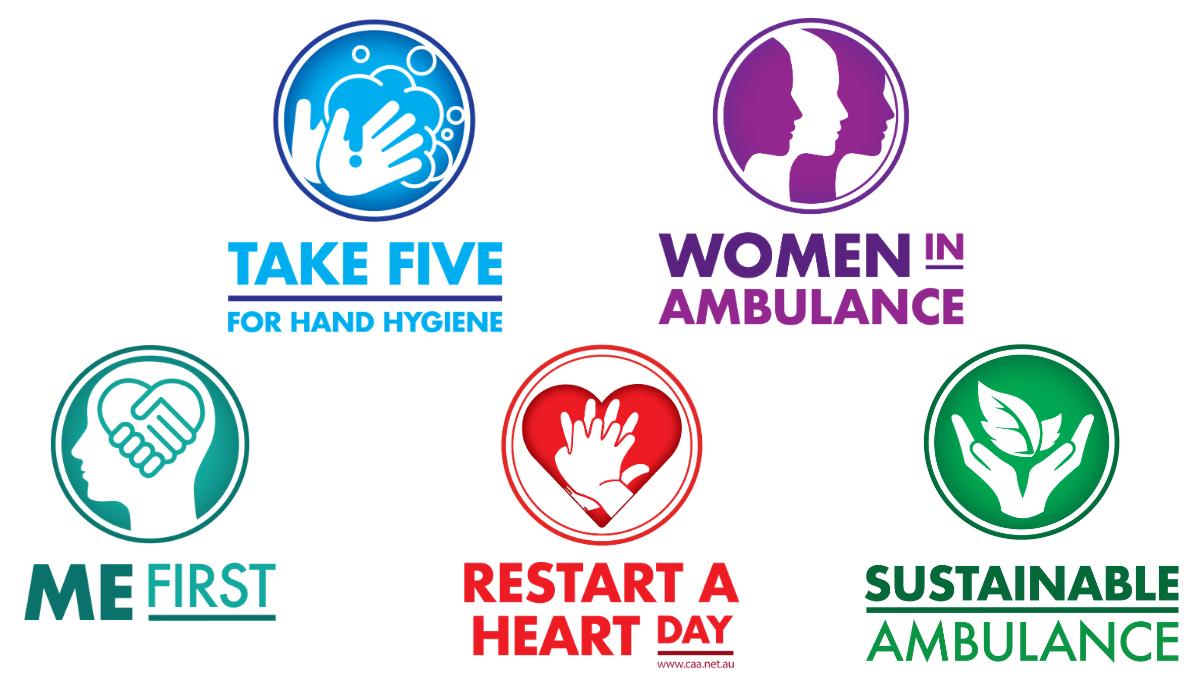 2020 proved to be a very busy year for CAA's committees, forums and working groups. In the midst of managing the evolving COVID-19 pandemic, the groups met weekly to update and exchange knowledge which proved for a great resource across the services.

Infection control and prevention have come to the foreground, with a focus in protected care delivery becoming paramount. The use of PPE, handwashing and disinfecting, vehicle cleaning and air control became a "New Normal".

The 2020 CAA Patient Experience Survey report was released and can be found on our website. A huge congratulations to all the Australian Ambulance Service's for another year of high results, it was fantastic to have PNG join the survey this year for the first time.

The CAA launched a number of strategies this year, including the Women in Leadership Strategy, Sustainability Strategy and Patient Safety and Quality Improvement Strategy. Work from these and CAA's other strategies delivered surveys and reports that are now available on CAA website https://www.caa.net.au/caa-reports

The CAA Global Resuscitation Alliance 2019 Survey Report provides an update against the CAA Out-of-Hospital Cardiac Arrest Strategy, based on the US 10 Steps GRA program, which shows the progress our members have made in three short years since adopting the program. The report includes case studies against the 10 steps from across Australian and New Zealand ambulance services.

In a first for the sector, the CAA ran a Women in Leadership survey in June/July 2020 as well as collecting data for the CAA Workforce and Gender Report. Results from both are now published on our website.