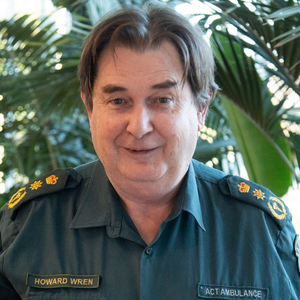 Mr Howard Wren
CAA Chair
CO
ACT Ambulance Service
Howard Wren, ASM, is the current Chief Officer of the ACT Ambulance Service. He is an experienced practitioner with a career spanning more than 40 years in acute healthcare.
Howard is a standing member of several national committees that advise on the direction of ambulance practice and education. These include the national Ambulance Clinical Forum and the Board of the Council of Ambulance Authorities. He is also a practioner member of the inaugural paramedicine Board of Australia.
In recent years, Howard has led the service through a time of unprecedented challenges, all the while implementing critical reform projects and maintaining service delivery.
Dr Dominic Morgan
Commissioner
NSW Ambulance
Dominic has over 30 years of ambulance experience across a broad range of roles in the areas of operations, clinical practice and leadership with Ambulance. After commencing his career with NSW Ambulance, he was appointed as CEO of Ambulance Tasmania in 2009 and returned to NSW Ambulance in 2016 as Commissioner.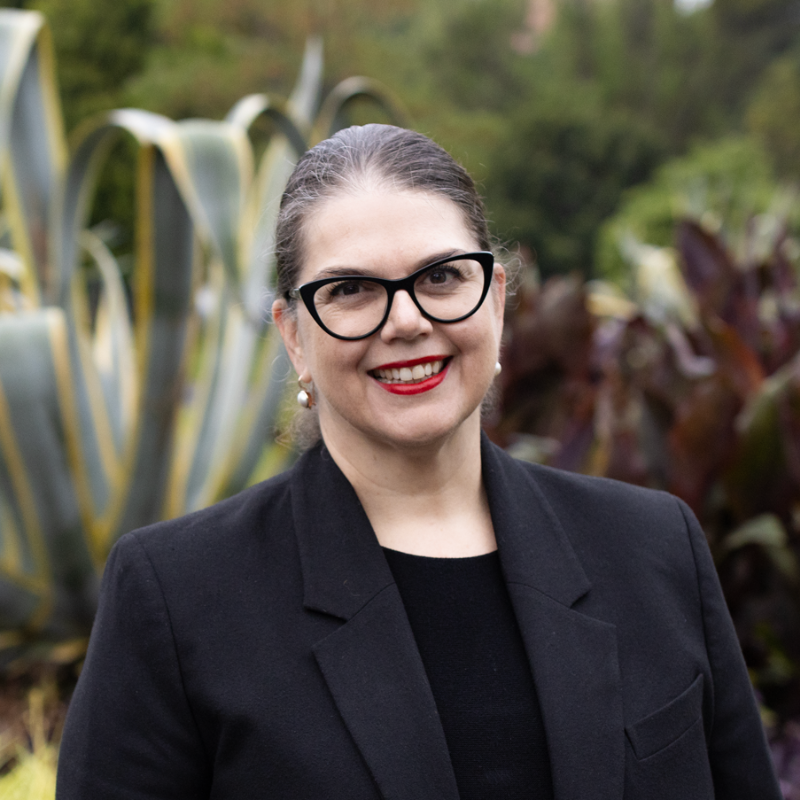 Jane Miller
Chief Executive Officer
Ambulance Victoria
Jane Miller is an inspirational and inclusive leader with more than 30 years of senior management and clinical experience in health care. She has a deep understanding of the health system and a commitment to harnessing expertise to deliver organisational strategy and drive outstanding outcomes for the Victorian community.
Prior to commencing with Ambulance Victoria as Chief Executive Officer on 30 January 2023, Jane led Victoria's health system response to the service demands of COVID-19 as Deputy State Controller – Health Service Operations with the Department of Health.
Jane previously held senior leadership positions with the Royal Children's Hospital, including acting CEO and Chief Operating Officer where she led clinical operations. During her time at the RCH Jane made a sustained impact on quality improvement and risk management, supporting the development of critical projects including the implementation of electronic medical records across the Parkville hospital precinct.
A Graduate of the Australasian Institute of Company Directors (AICD) and Associate Fellow of the Australian College of Health Service Management (ACHSM), Jane is also an Individual Member of the International Society for Quality in Health Care (ISQua).
Jane holds a Bachelor of Applied Science (Speech Pathology) and a Graduate Diploma in Neurosciences from La Trobe University. She also gained a Masters of Health Management from the University of New England.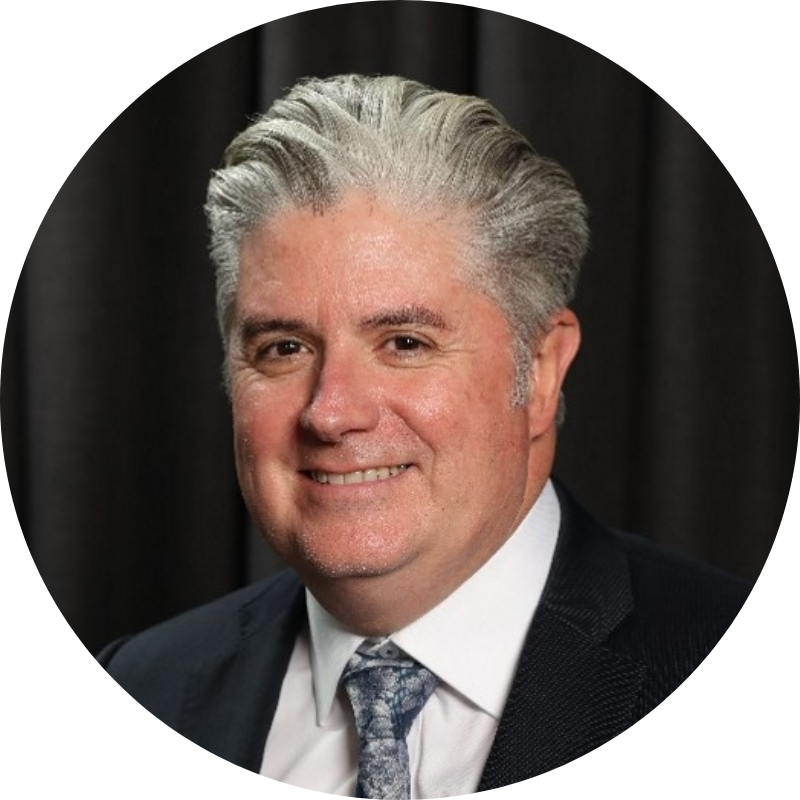 Mr Craig Emery
Commissioner
Queensland Ambulance Service
Craig commenced his ambulance career in January 1990 and brings over 30 years of experience across a broad range of frontline operational and senior roles. Craig was appointed as the Commissioner, Queensland Ambulance Service in February 2022.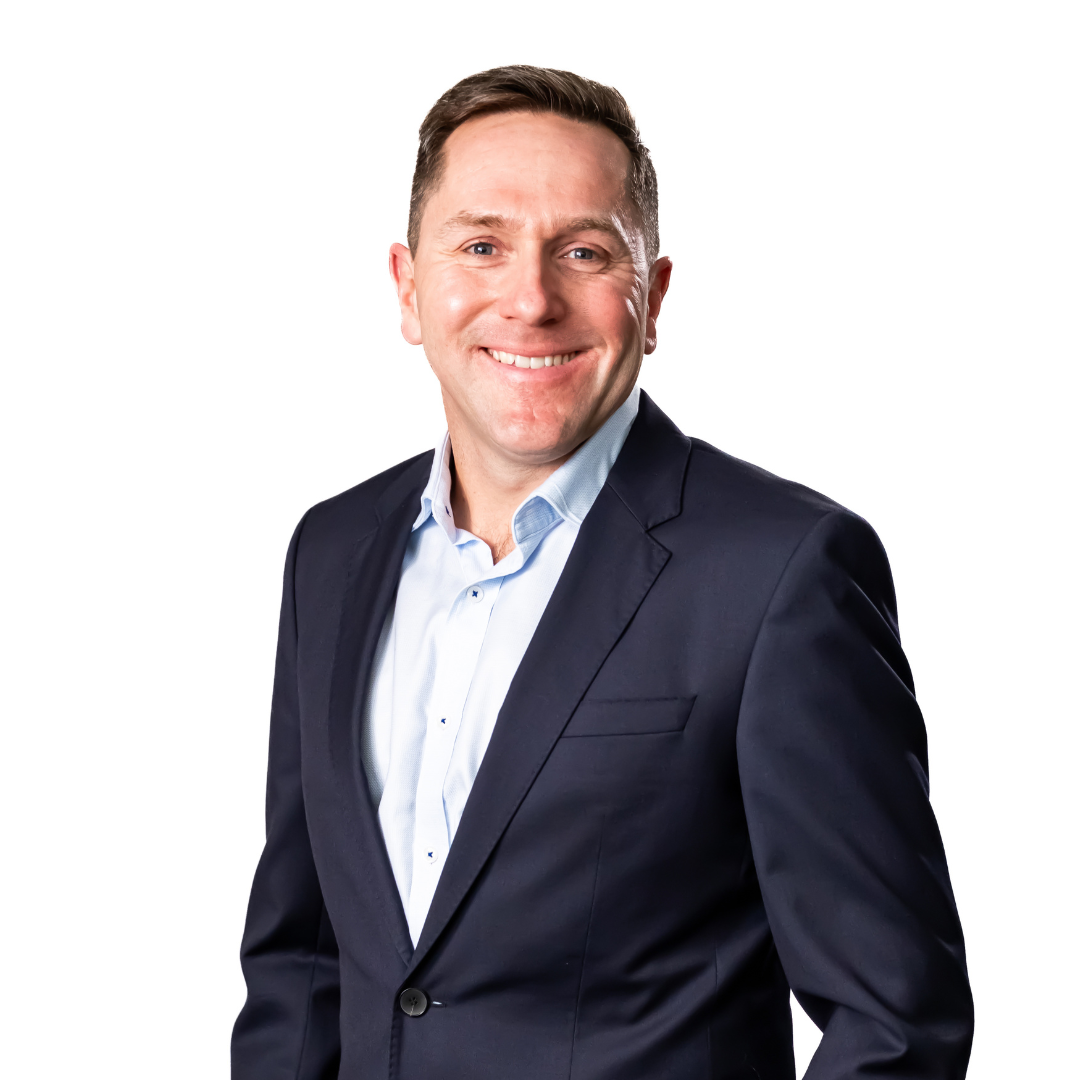 Brendon Brodie-Hall
Chief Emergency Officer
St John WA
Brendon is a values-based leader, placing culture and Work Health Safety at the forefront of everything he does.

He has a proven track record of delivering complex logistical operations with large, geographically dispersed workforces and over 15 years of experience in 24/7 environments.

Brendon brings with him a wealth of expertise: He holds a Bachelor of Engineering and a Master of Business Administration and joins us from a senior leadership role at one of the world's biggest mining companies, Rio Tinto.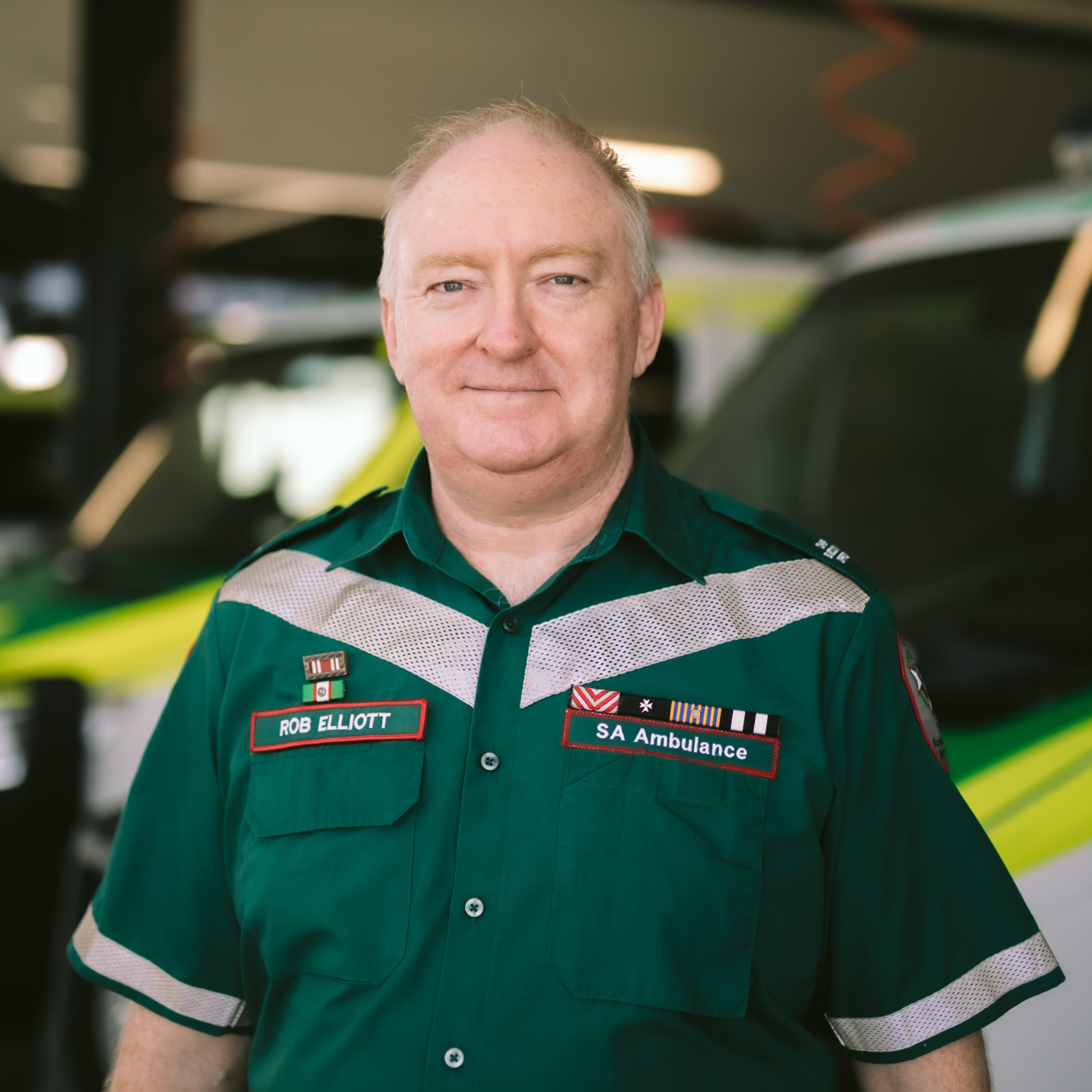 Mr Rob Elliott
CEO
SA Ambulance Service
Rob started his ambulance career with SAAS as a registered paramedic in 1989. He's worked as an operational ambulance officer, paramedic, intensive care paramedic and Clinical Team Leader before moving to senior leadership roles within the organisation.
Rob's senior management journey began in 2002 and he has worked in a range of roles across clinical development, patient safety and quality, clinical education, non-emergency ambulance operations, and more recently, as Executive Director of Operations (Metropolitan). He is a Fellow of the Australasian College of Paramedicine and was a recipient of the Ambulance Service Medal in 2014.

Earlier this year, Rob was presented with a Gold Commendation from St John Ambulance Australia for his contribution and dedication as Chief Paramedic on their Medical Advisory Panel.

Mr Jordan Emery
Chief Executive
Ambulance Tasmania
Jordan is deeply passionate about leading the incredible people of Ambulance Tasmania to deliver world-class care that is compassionate, dignified and of the highest quality. He commenced as Chief Executive of Ambulance Tasmania in June 2023 having held the position of Executive Director of Operations since January 2022. Prior to relocating to Tasmania, Jordan worked in various clinical and leadership roles with NSW Ambulance. In 2016, Jordan took a two-year sabbatical and relocated to New York where he worked for a global mental health non-government organisation, StrongMinds, delivering community mental health services to women in East Africa. The work was deeply inspiring and demonstrated the positive benefits of good mental health on the whole lives of women and their families. Many of these learnings have fuelled Jordan's ongoing interest and commitment to the wellbeing of the team he is privileged to lead.
Jordan holds a Master of Public Health from University of NSW, a Master of Health Management from the University of NSW and a Bachelor of Clinical Practice (Paramedic) from Charles Sturt University.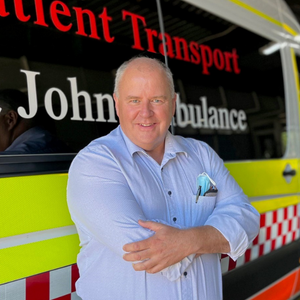 Mr Andrew Tombs
CEO
St John Ambulance (NT)
Andrew Tombs, newly appointed Chief Executive Officer of St John Ambulance Australia (NT) Inc, St John Holdings Pty Ltd, and St John Endowment Trust Pty Ltd, hails from Alpine Energy Limited, New Zealand, where he was Group Chief Executive Officer for 13 years. Andrew holds significant governance experience as director having served on several boards, including the role of Chair. He was also Vice President of the South Canterbury Chamber of Commerce, NZ.
Most of Andrew's career has been associated with the energy sector of New Zealand having gained invaluable experience across all aspects of the value chain from generation, transmission, distribution, and retailing. He served in his first executive role by the age of 28 working his way to CEO level just over a decade later. Andrew has also managed gas and telecommunication operations.
Andrew's natural affinity and strong desire to serve communities through a charitable entity while also putting his commercial/entrepreneurial skills and experience to good use, lured him to St John NT in 2023. He also has a long association with St John, starting from a young age as a cadet in New Zealand and he has also served as a volunteer fireman.
Andrew is alumni of Victoria University of Wellington in New Zealand, Stanford University (Business) in the USA, and the Institute of Strategic Leadership in New Zealand. He is also a member of the Institute of Directors New Zealand and has recently joined the Australian Institute of Company Directors.
In his spare time Andrew is an enthusiastic novice golfer, an avid reader, theatre and movie goer, participates in social sports and activities, and can regularly be seen in camping sites in his self-contained off-grid 22 foot caravan – particularly near good freshwater fishing spots.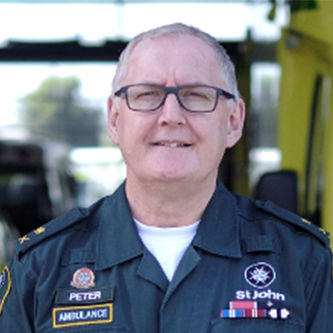 Mr Peter Bradley
CEO
Hato Hone St John
Peter Bradley's career in the emergency ambulance sector spans over 35 years. He became Chief Executive of St John New Zealand in 2012, following 12 years as Chief executive for the London Ambulance Service (LAS).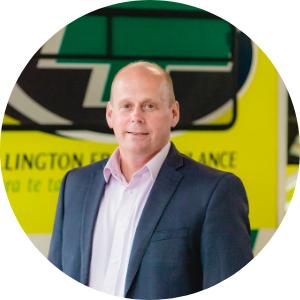 Mr Dave Robinson
Chief Executive
Wellington Free Ambulance
Dave became Chief Executive of Wellington Free Ambulance in June 2021. He has more than 20 years' experience in community, health and public services and has held senior management roles within the New Zealand Army and New Zealand Defence Force. He joins Wellington Free Ambulance as the organisation looks towards 100 years of service in the Greater Wellington and Wairarapa regions. Dave is married to Benita and has three sons; Thomas, Joseph and Patrick.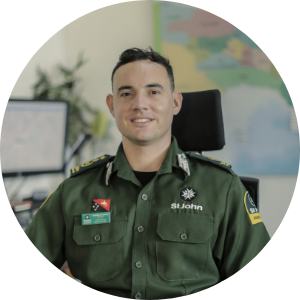 Mr Matt Cannon
CEO
St John Ambulance Papua New Guinea
Matt Cannon OStJ is currently the Chief Executive of St John in Papua New Guinea. He is a dual registered paramedic and registered nurse. Prior to this, Matt worked for New South Wales Ambulance in various roles. He was also a senior leader in St John New South Wales, including State Staff Officer (Operations Support Group).