Dear friends & colleagues,

It is finally here :D

Our brand new magazine FIRST is ready for you to dive in. The digital copy is available on CAA's website and hard copies will be hitting the streets next week so watch out for your copy.

In our first issue we speak to Greg Page who survived a cardiac arrest earlier in 2020 to see how he is doing, we checked in with CAA committees on latest developments in the sector, share service stories and we focus on the current topic of the day COVID-19.

Please take a second from your busy day and grab a copy of FIRST, lean back and enjoy the read.

With kindest regards,

Mojca Bizjak-Mikic
General Manager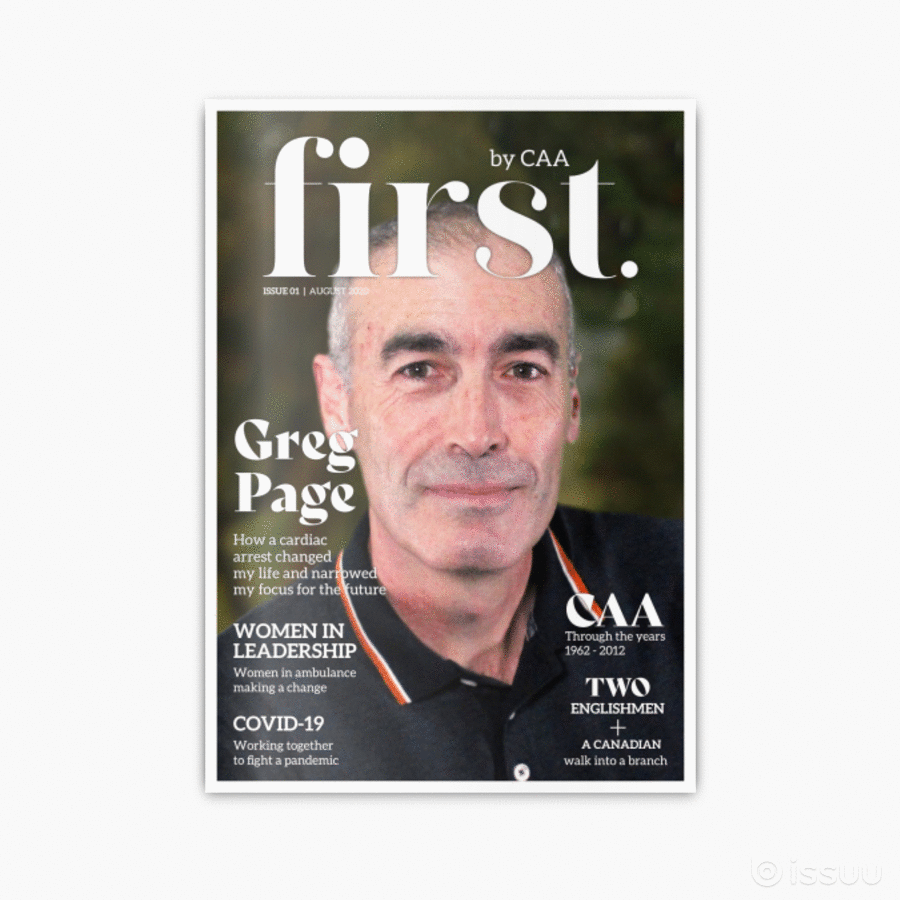 The CAA x Trapeze Interactive Ideas Board is now in its final week so if you haven't had a chance to submit your ideas on COVID-19 you still have a few days left.

The ideas board will be closing on Friday 21st August 2020.

The board is designed to capture your ideas on COVID-19; the challenges presented and your proposed solutions. We are focussing on changes that pushed or will push for improving systems, that will help us be better prepared for future emergencies.

All submitted ideas are in the running for a special prize - 2 tickets to the
CAA2021 Congress worth $1,000 each.

Don't miss out on sharing your ideas by visiting the Ideas Board page.
The CAA2020 Webinar Series is up and running and we are excited to bring you the

CAA x Trapeze COVID-19 Interactive Ideas Board webinar

held on Tuesday 25 August 2020, 10.30am AEST (12.30pm NZ).

Our distinguished panel of presenters will touch on the topics of Infection Control, Mental Health & Wellbeing, Strategy & Management and Technology.

Come and hear from:

Adj. Asst. Prof Ng Yih Yhg
Consultant, Emergency Physician
Lead, Digital and Smart Health Office, TTSH and Central Health Singapore

Mick Stevenson
Executive Director Clinical Operations Ambulance Victoria

James Wetherall
Managing Director Emergency Services Trapeze

Raelene Hartman
Chief Phycologist NSW Ambulance


MC'd by CAA's CEO David Waters, this webinar will provide great insight into how services across Australasia are managing their response to COVID-19 and what their top learnings are going forward.

To register for the webinar please visit
https://my.demio.com/ref/78LgODs0pycE8fqi

See our website for information on the rest of the CAA2020 Webinar Series
https://www.caa.net.au/webinars