CAA19 Congress
August 13th - 15th, 2019 | Perth, Western Australia
Building Blocks In Place For Ambulance Services In 2050

Presentations across three days at the CAA19 Congress in Perth challenged leaders in the pre-hospital sector to imagine ambulance services in 2050. More than 85 local and international speakers engaged 300 delegates on issues, projects, technology and equipment on the horizon, prompting one CAA social media follower to claim "like button fatigue".
Congress highlights included:
A video message from the New Zealand Prime Minister Jacinda Ardern to the Women in Leadership Forum. Click here to listen to the Prime Minister's address.
CEO of Emergency Medical Services in Copenhagen and leading Global Resuscitation Alliance Secretariat member Dr Freddy Lippert addressed delegates on the future of stroke care & AI's role in improving patient care.
Lead at Singapore's Tan Tock Seng Hospital Digital & Smart Health Office and Central Health Singapore Home Team, Dr Ng Yih Yng provided fascinating insights into cardiac arrest responses in a densely populated metropolitan, successful campaigns & technological innovation for health care.
Managing Director of the Demographics Group Bernard Salt described the composition of communities in Australia and New Zealand & anticipated priorities for ambulance services in the coming decades.
Consultant in Emergency Medicine and Pre-hospital Care Professor Richard Lyon MBE explained how the future had arrived in many areas from biometrics and nanobots to ECMO treatment and live video streaming.
Futurist Bruce McCabe delivered a passionate presentation on the technology already changing the world including the good and the bad of statistical machine learning, regenerative medicine and quantum computing.
Sponsor Trapeze cleverly embraced the Conference theme with a visual depiction of ambulance services in 2050. Sketch Group artist Will captured delegates' ideas and brought them to life on a giant poster.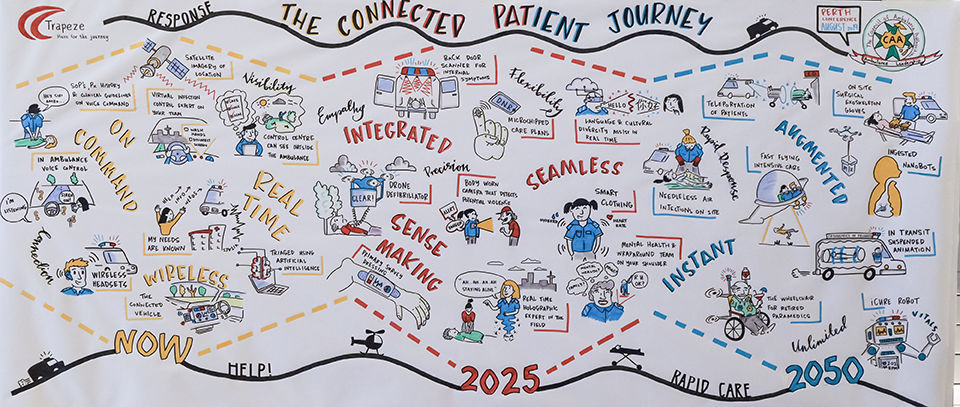 The 5th Global Resuscitation Alliance (GRA) Masterclass held as part of CAA Congress was a key feature of the program for Australia and New Zealand services working towards reducing the death toll from sudden cardiac arrest.
The first Masterclass in Infection Control laid the foundations for ongoing work to lessen the risk of infection for paramedics and patients exposed to a volatile bacterial environment.
Female and male delegates participated in the Women In Leadership Forum, which included a CAA Board Members' Panel; inspirational presentations from speakers including Christina Matthews, CEO of the Western Australian Cricket Association; Dr Niki Vincent, Commissioner for Equal Opportunity; Michelle Brett, St John Ambulance New Zealand and Angela Beatson, Queensland Ambulance Service. Enviro Warrior Paul Frasca delivered the closing presentation with his insights into how ambulance services could address sustainability issues.
CAA Chief Executive David Waters thanked the delegates, sponsors and exhibitors who individually and collectively generated an outstanding event. "Our exceptional speakers and generous sponsors and exhibitors enabled us to deliver an outstanding event across three days," he said. "The Congress is a unique forum contributing to the capacity of ambulance services and paramedics to fulfil their vital and increasingly expansive role in our communities."
To view images taken at Congress and CAA Awards for Excellence, please click here.
Gallery Password: CAAC19
Video's of presentations (where permission has been granted) can be found here.