Dear friends & colleagues,

Every year CAA collects data from our member services for the Productivity Commission's annual Report on Government Services (RoGS). The purpose of this report is to provide information on equity, effectiveness and efficiency of government services across Australia. The RoGS data collection provides information on staffing numbers, growing demand for ambulance services and other for all Australian ambulance services. In addition to the RoGS data the CAA annually captures data for New Zealand ambulance services and for the first time in 2019-20 Papua New Guinea joined the CAA data collections.

Please see some of the highlights below, or to view the full report please visit the Productivity Commission website here.

The CAA team are hard at work on our campaigns and events for 2021, and looking forward to sharing some exciting updates with you soon. Our next webinar is fast approaching on Tuesday 23rd February, and we are pleased to bring you Cyber Security Specialist Dan Weis. With 25 years experience in the IT industry, Dan will share with us how to stay cyber safe in an always changing online world.

Looking further ahead, our CAA2021 Women in Ambulance Award winners will be announced on International Women's Day, Monday 8th March. Thank you to everyone that submitted nominations, it is fantastic to see so many amazing women achieving great things in the ambulance industry.

With kindest regards,

Mojca Bizjak-Mikic
General Manager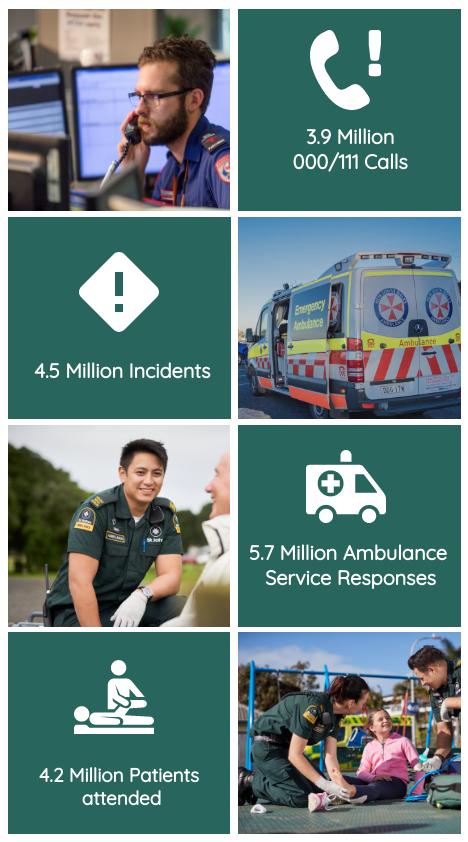 CAA is pleased to announce Cyber Security Specialist Daniel Weis as the presenter for the next webinar in the CAA 2021 Webinar series on Thursday 23rd February.

Dan works to proactively asses company and government networks to increase their security protocols. With over 25 years experience in IT, Dan was one of the first 10 people in the world to become a Certified Ethical Hacker. He works to educate people on the risks of cyber crime, cyber-attacks and threats and the dark web. In addition to his role at Nexon, Dan undertakes research on the cybercrime underground, facilitates training sessions for budding ethical hackers, is a regular on the speaker circuit, has a number of published resources including books, magazine articles, newspaper appearances, online posts and Youtube videos, and is an active participant in a variety of renowned security and industry programs.

Dan will enthrall you with his knowledge of cyber threats and security, and what you can do to stay safe in an increasingly technology-reliant world.


It's not too late to sign up to The Directory by CAA!
At its core, The Directory by CAA is a network that brings together companies and service providers, offering chances to connect and learn about each other. The Directory by CAA was established as a way we can continue these important partnerships throughout the year, not just during our events and campaigns.
It introduces a dedicated page on CAA's website where all product companies will be featured. In addition to this, The Directory will provide wonderful advertising opportunities from full-page ads in CAA's new magazine FIRST, fortnightly newsletters and exposure on our extensive social media platforms.
Please
email Nikki Murphy
to be a part of it.


Are you looking for your next exciting career opportunity?
Check out the CAA Job Board on our website for information regarding current roles available within our member services and the wider ambulance sector.
https://www.caa.net.au/job-board