Dear friends & colleagues,

We are very excited to bring to you the CAA Women in Ambulance campaign for the second year. After a successful launch in 2020 and a very positive response from the industry, we are thrilled to open the CAA2021 Women in Ambulance campaign to a new group of nominees.

The Women in Ambulance campaign was created to recognise and help promote the incredible women who work across all areas of the ambulance sector, from on-road teams, to communication staff and corporate members. We welcome you to put forward your colleagues, or yourself for nomination.

For more information on how to nominate a deserving woman from your service please contact your management team.

The CAA2021 Women in Ambulance Honour Recipients will be announced on International Women's Day on Monday 8th March 2021. Recipients will also receive an invitation to CAA2021 Women in Leadership Forum on Thursday 15th July in Sydney NSW.

To all the incredible women working in ambulance, we thank you for your commitment and hard work. We cannot wait to share with you the CAA2021 Women in Ambulance Honour Recipients in March next year.

With kindest regards,

Mojca Bizjak-Mikic
General Manager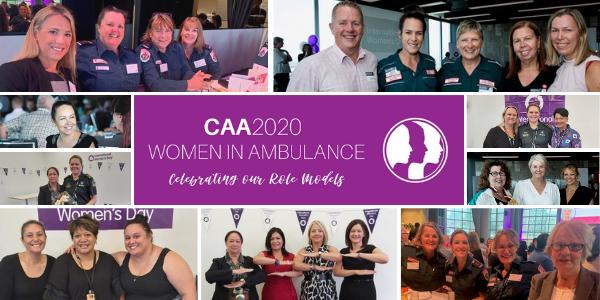 In 2020 the Council of Ambulance Authorities was proud to launch the inaugural Women in Ambulance campaign designed to highlight successful and hardworking women in ambulance services across Australia, New Zealand and Papua New Guinea.
The CAA Women in Ambulance Honour recipients have been chosen for their work and career progression and are being championed as role models to the rest of the workforce. The CAA Women in Ambulance campaign aims to empower and inspire future generations of women to step into ambulance careers and progress into leadership roles and management levels.

Nominations for our 2021 CAA Women in Ambulance Honour are now open, and recipients will be announced on International Women's Day,
Monday 8th March 2021.

For a full list of 2020 CAA Women in Ambulance Honour recipients, please visit
https://www.caa.net.au/women-in-ambulance

Singapore's Response to COVID-19

Following great interest in this presenter's section at our August COVID-19 webinar, we decided to invite him back to share with us more in-depth how Singapore has and continues to handle the COVID-19 pandemic. An interesting listen not only from a strategical management point of view but also regarding infection control and weather conditions (as we get ready for the hot Australian summer), this webinar is one you will not want to miss.

Join us in welcoming back Adjunct Assistant Professor Ng Yih Yng, Lead, Digital and Smart Health Office, TTSH and Central Health to close off CAA's 2020 Webinar Series.

Tuesday 15th December 11.30am AEDT
Register here: https://my.demio.com/ref/xTCePzC3JjO2TVPq





Dr. Ng Yih Yng is the Home Team Chief Medical Officer of the Ministry of Home Affairs, Singapore overseeing Healthcare policy for the government homeland security sector. He works with the Ministry of Health in the strategic development of prehospital emergency care services including the community training, emergency response and technology. Dr Ng developed Singapore's first CPR/AED crowdsourcing app and implemented the world's first national residential AED program in his previous role as the fire department CMO.