Happy New Year everyone 😊

We hope 2021 proves to be a much more enjoyable year filled with love and happiness and a bit less drama than last year.

Our team is busy kicking off the new year with a tonne of exciting activities. First off the blocks is the CAA Women in Ambulance campaign - services only have a few short weeks to put forward their nominees!

The CAA Awards for Excellence are open for submissions and we expect great projects to be put forward for our six award categories, including the new category Excellence in Mental Health and Wellbeing.

Our forums, committees and working groups will be busy getting organised for their first meetings of the year (March – May) and looking to progress work against their annual work plans. The first CAA Board meeting is being held at end of February.

Organising for the CAA2021 Congress is in full swing, and will be held from 15-17 July in Sydney's beautiful Darling Harbour. This year the Congress will again commence with specialised Infection Control and Women in Leadership Forums, followed by the 2-day CAA Congress that will explore "the New Normal" for the ambulance sector, plus an exciting new look CAA Expo.

We are excited to continue the successful CAA Webinar Series, starting the year with a look back at Whakaari/White Island volcanic eruption with Dr Tony Smith, St John New Zealand on 28th January.

A busy year ahead for the CAA team and members with the aim to bring you the latest stories and developments from the Australasian ambulance sector and continue to contribute to this wonderful industry of ours.

We look forward to another year in your company.

Kind regards,
Mojca Bizjak-Mikic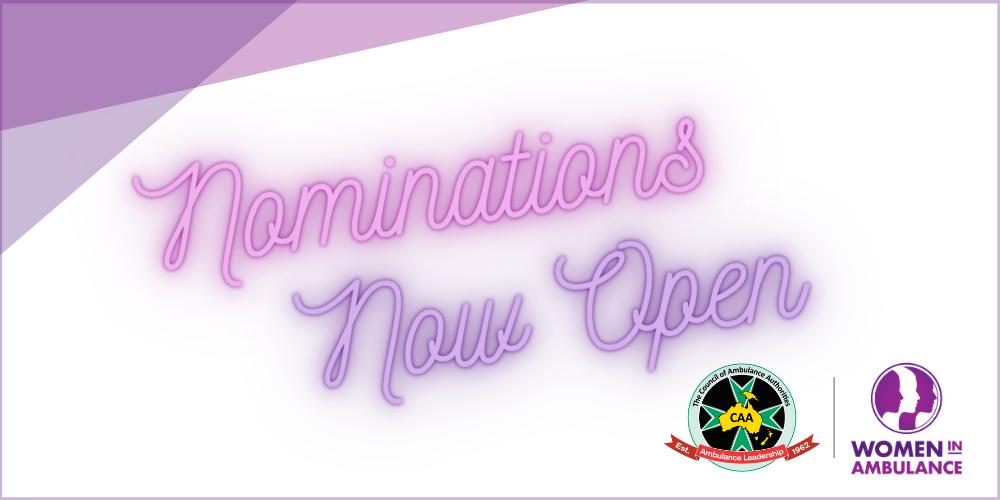 Don't forget that nominations for our 2021 CAA Women in Ambulance Honour are now open, with recipients announced on International Women's Day, Monday 8th March 2021.

The CAA Women in Ambulance campaign designed to highlight successful and hardworking women in ambulance services across Australia, New Zealand and Papua New Guinea.
CAA Women in Ambulance Honour recipients have been chosen for their work and career progression and are being championed as role models to the rest of the workforce. The CAA Women in Ambulance campaign aims to empower and inspire future generations of women to step into ambulance careers and progress into leadership roles and management levels.

At this stage the Honors are only open to women working in the 11 CAA member services from across Australia, New Zealand and Papua New Guinea (for a full list visit our Member Services page) and are not open to external organisations. The nominations are handled by internal processes at the respective ambulance jurisdictions. Should you wish to put forward a deserving woman working in the ambulance sector please contact your manager and they will consider your nomination.

For a full list of 2020 CAA Women in Ambulance Honour recipients, please visit
https://www.caa.net.au/women-in-ambulance


We are excited to announce that the CAA 2021 Congress to be held at the International Convention Centre (ICC) in Sydney's picturesque Darling Harbour from 15-17 July.

The two-day Congress will broach 'The New Normal: Adapting to our Reality'. Presenters will look to the sector's ability to adapt, build resistance, understand risk, acknowledge the threats and how to respond. The Congress will look at for sub-themes: Cyber Security, Counter Terrorism, Demographics, and Paramedic Engagement. In addition to the two-day Congress, we will be again holding specialised Forums day one, this year returning with the Women in Leadership Forum and Infection Control Forum.

Our sponsors and exhibitors will have an outstanding setting to showcase products and services with our revamped Expo. A premium and dynamic space that will provide our partners with the chance to liaise with our delegates and share their latest updates and innovations. This year the Expo will also Feature an engaging program with mini masterclasses and demos to ensure this space will be the innovative hub of the week.

We look forward to an exceptional week for leaders in the pre-hospital and ambulance sector!

One year on from the Whakaari/White Island Eruption
with Dr Tony Smith

Thursday 28th January 2021 at 11.30am AEDT

Just after 2pm on the 9th December 2019, the Whakaari/White Island in New Zealand's Bay of Plenty explosively erupted. At the time of the eruption, there were 47 people on the island. St John New Zealand was the responding road ambulance service, and Dr Tony Smith helped lead the response in what proved to be one of the most challenging events in his long-standing medical career. One year on from this catastrophic event, Tony joins us to speak on the eruption and his team's response.

Tony chairs the working group that develops the clinical procedures and guidelines for the ambulance sector in New Zealand. Within his tenure as chairman, Tony has led the development of national policies that determine the treatment and destination of patients in New Zealand with spinal cord injury, major trauma, stroke and heart attack. Tony also serves on several medical councils and committees. He is a member of the New Zealand Resuscitation Council, The Australian and New Zealand Committee on Recitation, the and the New Zealand Clinical Network for major trauma, stroke and cardiac conditions. Tony serves as a doctor for the Helicopter Emergency Medical Service and is an active member of the Westpac Rescue Helicopter Trust.