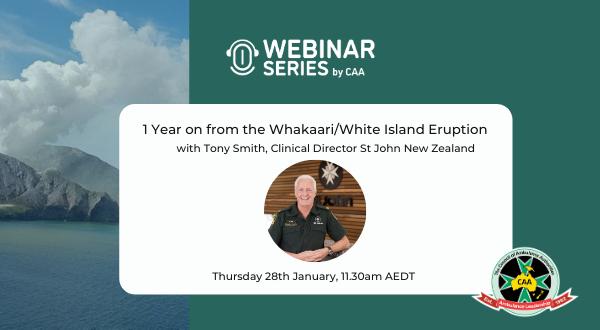 We can't wait for you to join us to kick off the CAA2021 webinar series tomorrow.

The Webinar Series is designed to bring you speakers on current hot topics, new innovations, ideas, and training from the Australasian ambulance sector.

On 9th December 2019 just after 2pm New Zealand time the Whakaari/White Island in New Zealand's Bay of Plenty explosively erupted. At the time of the eruption, 47 people were on the island, 22 people subsequently died (approximately half within the first hours) and 34 were treated for serious injuries, many of these for severe burn injuries.

St John New Zealand was the responding road ambulance service, and Dr Tony Smith, Clinical Director for the service helped lead the response which has proven to be one of the most challenging events in Tony's long-standing medical career.

One year on from this catastrophic event, Tony joins us to speak on the eruption and his team's response.

Dr Tony Smith chairs the working group that develops the clinical procedures and guidelines for the ambulance sector in New Zealand, serves as a doctor for the Helicopter Emergency Medical Service of the Auckland Rescue Helicopter Trust.

Please join us in welcoming Dr Tony Smith to kick off the CAA2021 Webinar Series.

Thursday 28th January 2021 at 11.30am AEDT
Register here: https://my.demio.com/ref/k1K7v80mLWDJGbGq

Please note that this webinar will not be recorded and will not be available to watch after this session time.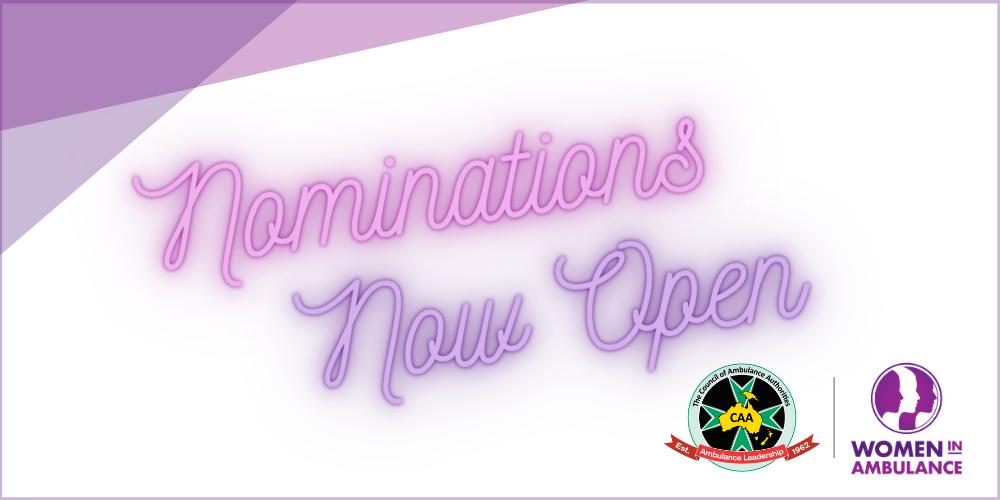 Don't forget that nominations for our 2021 CAA Women in Ambulance Honour are closing on Friday 5th February!

The CAA Women in Ambulance campaign designed to highlight successful and hardworking women in ambulance services across Australia, New Zealand and Papua New Guinea. CAA Women in Ambulance Honour recipients have been chosen for their work and career progression and are being championed as role models to the rest of the workforce.

At this stage the Honors are only open to women working in the 11 CAA member services from across Australia, New Zealand and Papua New Guinea (for a full list visit our Member Services page) and are not open to external organisations. The nominations are handled by internal processes at the respective ambulance jurisdictions. Should you wish to put forward a deserving woman working in the ambulance sector please contact your manager and they will consider your nomination. Recipients will be announced on International Women's Day, Monday 8th March 2021.

For a full list of 2020 CAA Women in Ambulance Honour recipients, please visit
https://www.caa.net.au/women-in-ambulance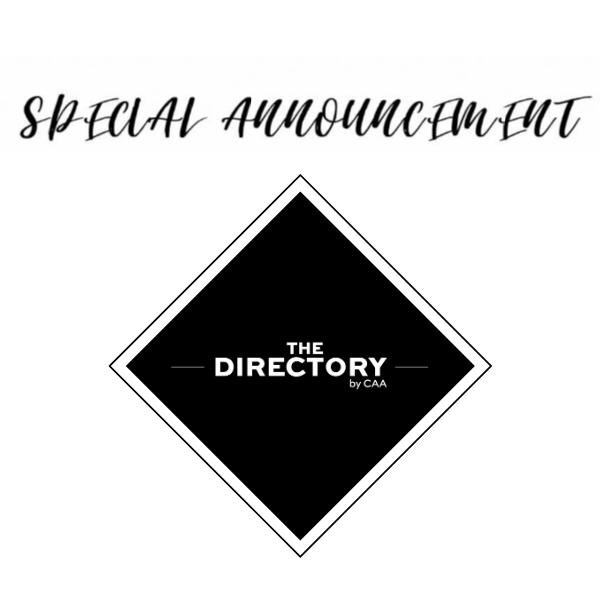 CAA has been instrumental in providing networking and partnering opportunities for many years. The Directory by CAA was established as a way we can continue these important partnerships throughout the year, not just during our events and campaigns.

At its core, The Directory by CAA is a network that brings together companies and service providers, offering chances to connect and learn about each other. The Directory introduces a dedicated page on CAA's website where all product companies will be featured. In addition to this, The Directory will provide wonderful advertising opportunities from full-page ads in CAA's new magazine FIRST, fortnightly newsletters and exposure on our extensive social media platforms.

The Directory by CAA is launching soon
Email Nikki Murphy at nmurphy@caa.net.au to be involved

Are you looking for your next exciting career opportunity?

Check out the CAA Job Board on our website for information regarding current roles available within our member services and the wider ambulance sector.

https://www.caa.net.au/job-board